As Dr. Ben Carson celebrates a record fundraising cycle, top-tier status in the 2016 GOP Presidential race, and continually improving poll numbers, here are 10 facts about Carson you probably didn't know.
1. He Was Almost Killed In A Car Accident.
Carson met his wife at Yale In 1971. They were married in 1975. His wife, Lacena Rustin, is also a talented violinist. They were almost killed in a car accident, a life-changing experience for the couple that showed Carson they were destined to be together.
According to Bustle:
"Ben often tells a story about how he knew they were destined to be together, following what could have been a serious car wreck during which he fell asleep behind the wheel while Candy slept in the passenger seat.
"I saw all these scenes from my life and I thought, "I'm gonna die," Carson said.  "And it just stopped on the shoulder, just in time before an 18-wheeler barreled by. And Candy awakened and said, "What happened?" … I explained what happened, and we said, "You know what? God spared our lives because he wants us to do something."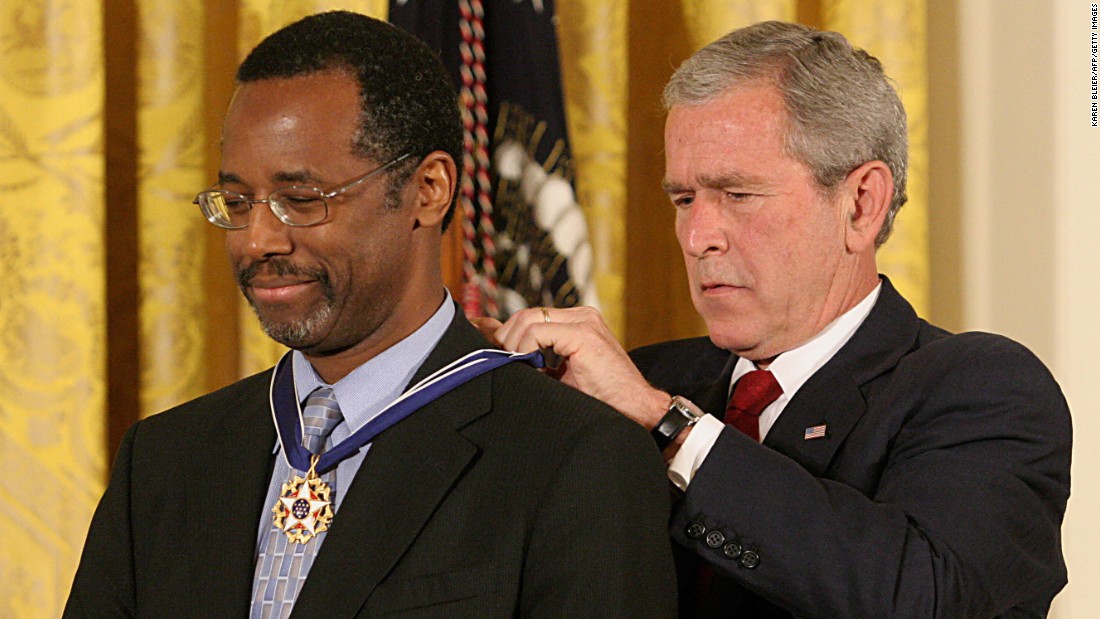 2. He Received The Presidential Medal Of Freedom.
In 2008, President George W. Bush honored Carson's accomplishments with the Presidential Medal of Freedom, the nation's highest civilian honor.
Bush said of Carson at the time:
""The story of our first recipient begins in a poor neighborhood in the heart of Detroit. This was an environment where many young people lost themselves to poverty and crime and violence. For a time, young Ben Carson was headed down that same path. Yet through his reliance on faith and family, he turned his life into a sharply different direction," Bush said at the ceremony. "Today Dr. Carson is one of the world's leading neurosurgeons. He is renowned for his successful efforts to separate conjoined twins and his expertise in controlling brain seizures. He has worked to be a motivating influence on young people. He and his wife Candy have started an organization that offers college scholarships to students across America. The child of Detroit who once saw a grim future became a scholar, a healer, and a leader."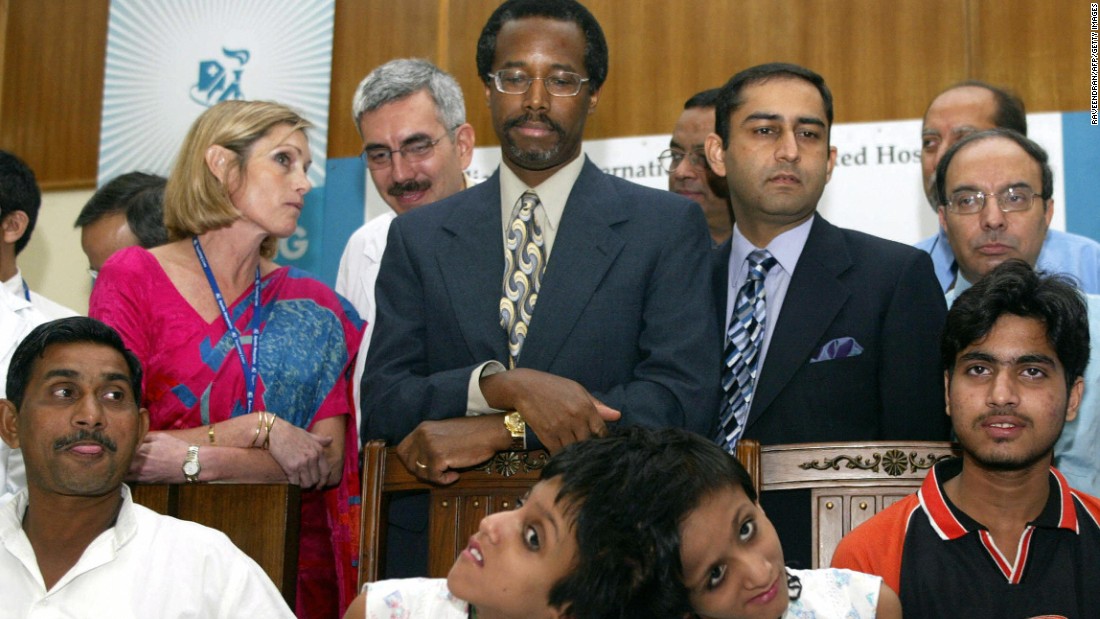 3. He Performed A Historic Medical Procedure.
Carson was the first surgeon in the world to successfully separate conjoined twins in 1987. Both twins survived the 22 hour procedure.  Also, he was the Director of Pediatric Neurosurgery at Johns Hopkins Hospital from 1984 until he retired in 2013.
4. He Became Religious After Almost Stabbing A Friend.
According to Wikipedia, and backed by interviews as well as his book:
"In his book Gifted Hands, Carson relates that, in his youth, he had a violent temper. Once, while in the ninth grade, he nearly stabbed a friend during an argument.[7] After this incident, he began reading the Book of Proverbs and applying verses on anger. As a result, Carson states he "never had another problem with temper"
5. He's The Subject Of His Own Movie-And Was Crucial In The Making Of Another.
In 2009, Cuba Gooding Jr. played Carson in a made-for-TV movie about his life, "Gifted Hands." A movie was also made loosely based on the idea of conjoined twins separated by Carson, "Stuck On You." Matt Damon and Greg Kinnear star as the twins.
6. He's A Seventh Day Adventist.
Carson pulls no punches defending his Christian faith, and the denomination he calls home is Seventh Day Adventist.
7. He Got his political Start By OWNING Obama.
At the National Prayer Breakfast in 2013, Carson famously schooled Obama, who was in attendance, about "Obamacare" and a number of issues. Carson became an overnight sensation in conservative circles and the "Carson For President" buzz was immediately born.
8. He's A 6 time Best Selling Author.
Writing successful books is nothing new for Carson-he's written six bestsellers, the first of which was his autobiography in 1992.
9. Carson And His Wife Have 3 Kids.
All are sons, Murray, Benjamin Jr., and Rhoeyce.
10. He Is A Passionate Philanthropist.
In 1994, Carson and his wife started a scholarship to help kids. The Cason Scholars Fund has awarded over 6,700 scholarships to kids in need.
"In 1994, Carson and his wife started the Carson Scholars Fund, which gave scholarships to students in grades 4–11 for "academic excellence and humanitarian qualities". They founded it after reading that U.S. students ranked second to last in terms of math and science testing among 22 countries. They also noticed that schools awarded athletes with trophies whereas honor students only received "a pin or certificate".
Recipients of the Carson Scholars Fund get a $1,000 scholarship towards their college education. It has awarded 6,700 scholarships. In recognition for his work with the Carson Scholars Fund and other charitable giving throughout his lifetime, Carson was awarded the William E. Simon Prize for Philanthropic Leadership in 2005."